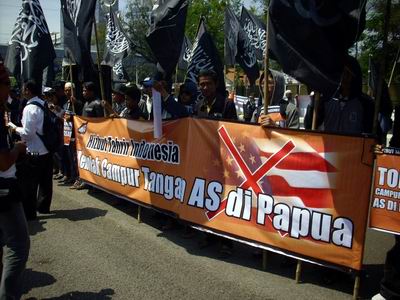 HTI-Press. Hizbut Tahrir Indonesia (HTI) rejects the US involvement in Papua. That is the point of the call of HTI in its rally in front of the US Embassy in Jakarta, Saturday (9/8). Besides delivering an oration, the group also brings tens of royah (a black flag with the phrase Lailahailallah muhammad rasulullah), banners and posters which say, "Hizbut Tahrir Indonesia Rejects the US Intervention in Papua", "Prevent Disintegration of Papua!" and "Reject the US involvement in Papua".
Farid Wajdi, one of the chairman of HTI Central Board explains that the rally is related with the letter from 40 members of the US Congress to President Susilo Bambang Yudhoyono (SBY) which asks the president to exempt from punishment two figures of Free Papua Movement or Organisasi Papua Merdeka (OPM), Filep Karma and Yusak Pakage. Both of them in May 2005 had been punished with 15 and 10 years imprisonment. They were proven to be involved in the case of raising the flag of Bintang Kejora (The Rising Star) in Trikora Field, Abepura, Papua on December 1, 2004.
"They intervene Indonesian government with the pretext of freedom of speech", said Farid. For that reason, Farid continued, HTI asks the Indonesian government to reject resolutely such pressure and be in firm position to punish the figures of OPM and to pull out the root of separatist movement.
"We call for the Moslem in Papua to stand side by side with the Moslem all over Indonesia to reject the plan of the Kuffar Colonizer to separate the province from Indonesia. It is because this kind of separatist movement is a great sin before Allah SWT" shouted Farid when reading the statement of HTI.
While to the Christian, either in Papua or all over the places in Indonesia, HTI calls for them not to be easily incited by the imperlialist to do separatist movement. "It is because the Colonizer will never care for your destiny. What they care about is the abundant natural resources of Papua" explained the chairman of Al Waie magazine.
Similar rally will be held in Surabaya on Sunday (10/12) and HTI will send a delegate to the House of Representative, Coordinating Minister for Political, Legal and Security Affairs and Security as well as the President from Monday (11/8) until Wednesday (13/8). (Riza Aulia/li)