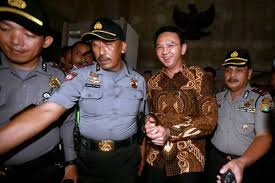 The Chairman of the Hizbut Tahrir Indoneia Central Board, Rokhmat S Labib,  emphasizes that the problem of Ahok has nothing to do with the issue of diversity, but instead the issue of blasphemy.
"Why are now Muslims staging protests because they do not believe that the blasphemer will be punished," said Rokhmat in a meeting with the Coordinating Minister for Political, Legal and Security Affairs (Menkopolhukam) Wiranto, in his office, Medan Merdeka Barat Street No. 15 Central Jakarta, Monday (21 / 11).
Rokhmat considers that the rising mistrust of the Muslims is due to the violence by the security apparatus who are indicated to have no firm action against the blasphemer of the religion.
"There are many excuses to make the perpetrator not  being punished, for example, the arrests of Ahok should have a permit from the president, whereas it is proven unnecessary, so that the Muslims finally stage protests to ask the state to take firm actions," said Rokhmat.
Rokhmat also questioned the unclear actions of the officers, because according to him the law for the blasphemer is already clear, "he has been a suspect, but he is not arrested," he explained.
In that same opportunity, the Chairman of HTI Central Board warned on the Minister Wiranto that he should also be angry because his holy book is insulted by an irresponsible person.
"The religion of  Mr. Wiranto is Islam, then you are sworn by the Qur'an, but when the Qur'an is insulted, you should be angry too, and punish the perpetrator, and in Islamic law when you are defending, supporting the blasphemer then you are similar to the blasphemer, " said Rokhmat.
At the end of the meeting, Rokhmat hopes that Wiranto had any legal authority, so as not to protect the blasphemer.
The meeting of the religious leaders with Menkopolhukam discussed the recent heated-up climate, especially in the case of blasphemous remarks  by Basuki Tjahaya Purnama or better known as Ahok when he cited a verse of the Qur'an in his working visit to the Thousand Islands.[]